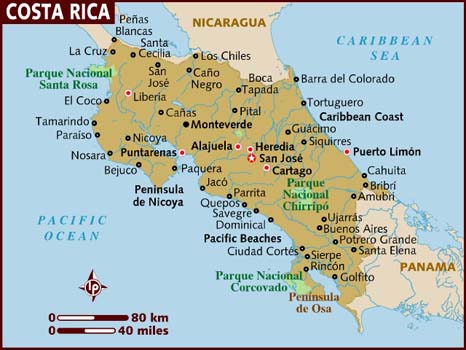 Costa Rica is the second-smallest Central American nation after El Salvador, and is located in the Central American isthmus, between the Pacific Ocean and the Caribbean Sea. At its narrowest point, in the south, only 119 km separate the Caribbean from the Pacific. Even in the north one can savor a leisurely breakfast on the Caribbean and take an ambling five-hour drive to the Pacific for dinner. At its broadest point, Costa Rica is a mere 280 km wide. On the ruler-straight eastern seaboard, barely 160 km separate the Nicaraguan and Panamanian borders. And while the Pacific coast is longer, it is still only 480 km from the northernmost tip to the Panamanian border as the crow flies.
Its location in Central America, stunning scenery, ideal climate and friendly locals enhance its reputation as a premier eco-tourism destination. Its long coastline means great surfing, beaches galore and a climate built for laziness. Costa Rica's enlightened approach to conservation has ensured that its lush jungles, national parks, wildlife refuges and biological reserves are home to playful monkeys, languid sloths, crocodiles, countless lizards, poison-dart frogs and a mind-boggling assortment of exotic birds, insects and butterflies. Meanwhile, endangered sea turtles nest on both coasts and cloud forests protect elusive birds and jungle cats.
Costa Rica is a tropical country and experiences only two seasons: wet and dry. The dry season is generally between late December and April; the wet season lasts the rest of the year. Temperatures vary little between seasons; the main influence on temperature is altitude. The highlands are cold: San José and the Central Valley get an 'eternal spring' with lows averaging 60℉ (15℃) and highs averaging 79℉ (26℃).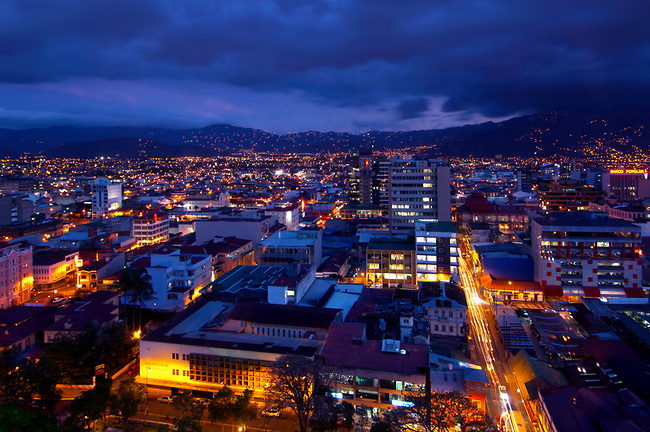 Costa Ricans are a fairly mixed group of people. Though the majority of the country's approximately four million inhabitants are descendants of Spanish immigrants, many families originated in other parts of Europe, Asia, Africa and, of course, Central America. In the lowlands, a high percentage of people are "mestizo", possessing a mixture of European and indigenous blood, whereas the majority of inhabitants along the Caribbean coast are of African lineage, and full-blooded Indians of various tribes inhabit much of the Talamanca Mountain Range.
Costa Ricans are polite, hospitable, well-educated and gregarious. They are well aware that their country is a special place, and they go out of their way to accommodate visitors.
Population
– 4.5 million,
Area
– 19,714 sq mi (51,060 sq km),
Currency
– Costa Rican Colon (CRC, ¢) and Céntimos,
Flight times
– New York is a 5 hour flight away, Los Angeles 11 hours, Miami 2.5 hours and London 12 hours (including stopover time),
Cities
- San José (capital), Alajuela, Cartago, Puntarenas, Puerto Limon,
Time Zone
- Costa Rica is on UTC or central standard time (same as Chicago and St Louis), which is GMT -6, Costa Rica does not use daylight saving time, so the time difference is an additional hour from April through October.,
Weather
– Tropical, with heavy rains from May to November,
Languages
- Spanish, English,
Religion
– Catholic (76%),
Electricity
– 110 volts AC (60 cycles), however three-pronged outlets can be scarce, so it's helpful to bring along an adapter.