Malaysia is a country with two distinct parts. Peninsula Malaysia constitutes the long fringe of land, extending down from Asia, which borders Thailand and Singapore. The South China Sea separates the mainland from the less populated East Malaysian provinces of Sabah and Sarawak. The dense jungles of Sabah and Sarawak support abundant plant and wildlife and Mt Kinabalu in Sabah stakes its claim as the highest peak in South East Asia.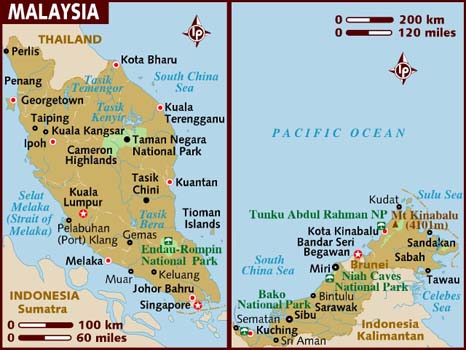 It is the Peninsula that seems to attract the most visitors, probably because of the diversity it offers in the way of people, activities and climates. The highland regions offer cool relief from the clinging humidity of the mainland, while Langkawi is the popular choice for sand and surf enthusiasts. The east coast, particularly the northern Kelantan province, offers the chance for an interesting cultural exploration of traditional Malay life. The city of Kota Bharu and its surrounds is possibly the most fascinating part of the peninsula, and the least visited, with a remote beauty and rich culture. The west coast is favoured for historical interest, and is where Malaysia's capital city, Kuala Lumpur is to be found, the icon of Asian prosperity and the meeting point for expats and city slickers who enjoy the energy of urban life. The city is a powerful mesh of tradition and technology, vying for equal status.
Cool hideaways are found in the highlands that roll down to warm, sandy beaches and rich, humid mangroves. One of Malaysia's key attractions is its extreme contrasts. Towering skyscrapers look down upon wooden houses built on stilts, and five-star hotels sit several metres away from ancient reefs. Malaysia is a destination known for its combination of eclectic cultures, natural wonders and scenic getaways.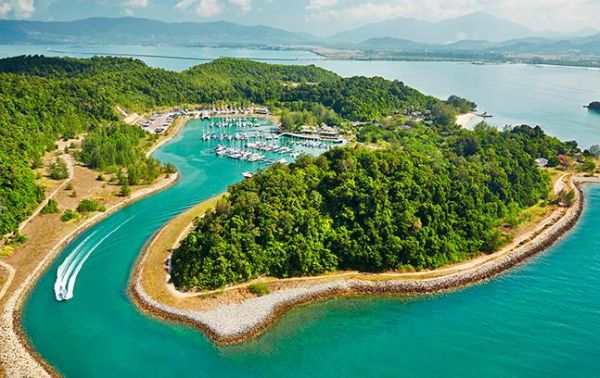 Bahasa Melayu is the national language, but English is widely spoken and is the language of business. Cantonese, Hokkien and Hakka are spoken by the Malaysias Chinese population and Tamil, Malayalam and Hindi among the Indian population.